---
Research Papers in Assessment: Volume 3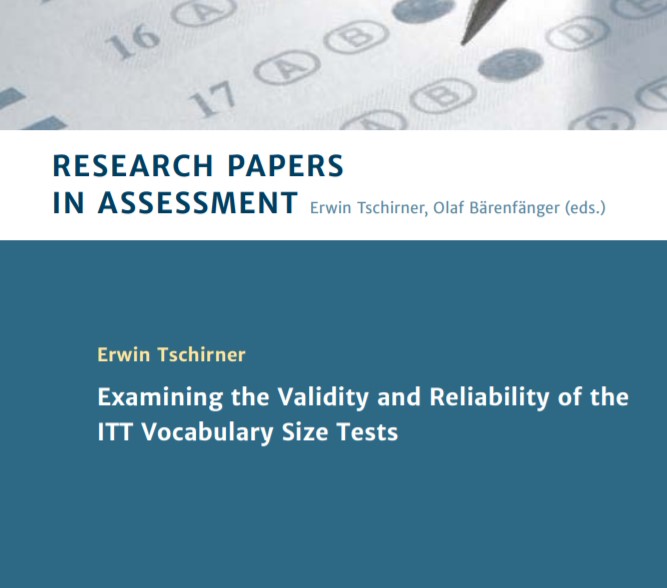 Research Papers in Assessment volume 3 published!
The Institute for Test Research and Development e. V. (ITT) proudly presents the third volume of its Research Papers in Assessment, entitled "Examining the Validity and Reliability of the ITT Vocabulary Size Tests".
ITT's productive and receptive vocabulary size tests were developed based on widely used and extensively researched test formats. In addition to the theory-based development of the vocabulary size tests by trained experts, reliability must also be justified on a statistical basis. In volume 3 of the Research Papers in Assessment, Erwin Tschirner presents a comprehensive reliability study of ITT's free vocabulary size tests for the languages Arabic, Chinese, English, French, German, Italian, Russian, and Spanish.
Overall, the ITT vocabulary size tests have proven to be a highly reliable instrument for assessing receptive and productive vocabulary knowledge of foreign language learners. Items with inadequate statistical values have been identified and are now undergoing successive in-depth reviews and revisions. Revisions are marked by means of transparent versioning.
A number of scientific studies contribute to the external validation of our vocabulary size tests. Are you interested in using our vocabulary size tests? We are happy to find customized solutions for your project and look forward to hearing from you at info@itt-leipzig.de.
Volume URL: https://nbn-resolving.org/urn:nbn:de:bsz:15-qucosa2-763177